Macarons
Macarons have become a symbol of French pastry and delicacy. These small round biscuits, both crunchy and soft, unique in their aesthetics and available in an infinity of perfumes, are however as complex to produce as they are good.
PROCYS is THE specialist to help you automate all or part of your production process.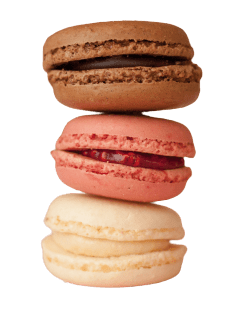 Dedicated tools
PROCYS has developed a range of equipment dedicated to the macaron.
From 2400 pieces/hour to 30,000 pieces/hour, we are able to offer solutions adapted to small, medium and large volumes of production, taking into account your processes, your recipes and your requirements.
Fully automatic solutions or semi-industrial solutions including some manual operations, we give you the opportunity to organize your production and regulate the production flow by providing operators with a pace of work.
A flexible process
PROCYS is THE specialist to manage your production. With several decades of experience in macaron production equipment, our sales and technical team is composed of experts who have an advisory role to their customers. As a true partner of your industrialization, PROCYS will find the solution that will perfectly suit your request and the requirements of your project.
Our solutions
Discover all our solutions dedicated to the industrial production of macarons.
Let's set up your
dedicated project
Together, we will find the solution that will perfectly suit your needs and requirements.
Consult the pages related to macarons :