Inline version
Machine designed with the same width as the fryer or oven
The machine is in direct connection with the oven or fryer, it is installed after a cooling area. The following operations are done automatically according to needs and applications:
Distribution, product alignment
Synchronisation with injection unit
Lateral or vertical injection
Benefits
The products are injected on the belt or directly into moulders as in the following example: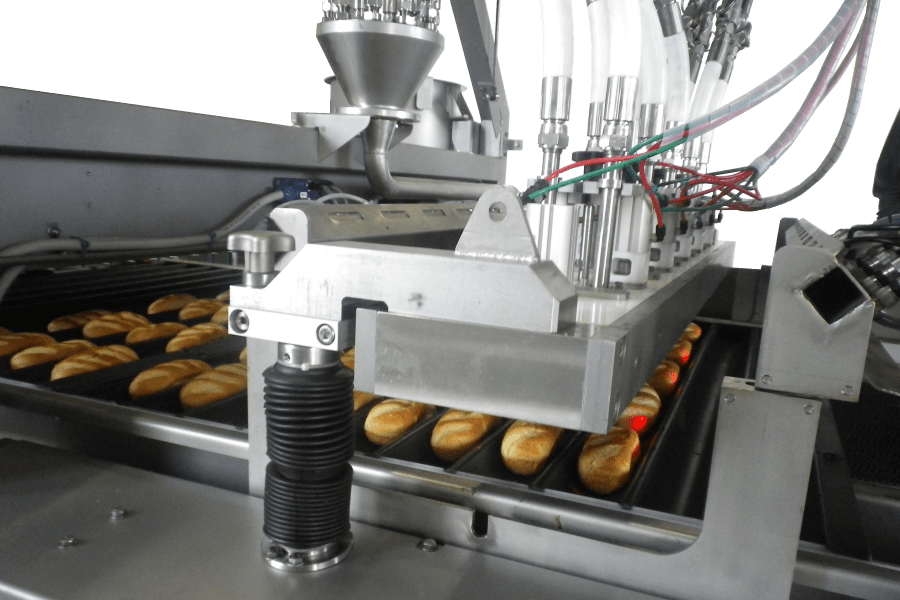 A project dedicated to your needs
Procys defines with you the machine the most suitable for your production
Vertical or lateral injection
Stopping bar to hold needles during injection and removal
Option: no product / no injection
Cream feeding in simple or double jacketed
Automate your distribution, synchronization and injection operations.
Filling / Injection inline version
What are the benefits ?
Turn-key production system
Robust construction, stainless steel frame, without mechanical parts under the process zone
Automatism & control provided by PROCYS
Modular production system
Injection head motions are controlled by brushless motors allowing a movement adapted to each recipe with maximum flexibility
Modification of settings during production with different access levels for operators, line manager or maintenance technicians
Innovative production system
Machine controlled from a touch screen, recipes storage (motions and injection time)
Consult the pages related to the inline version: