Stacking systems
Action of stacking products. This process is necessary before a manual pick-up table or before feeding machines such as traditional sandwiching machines or some packaging machines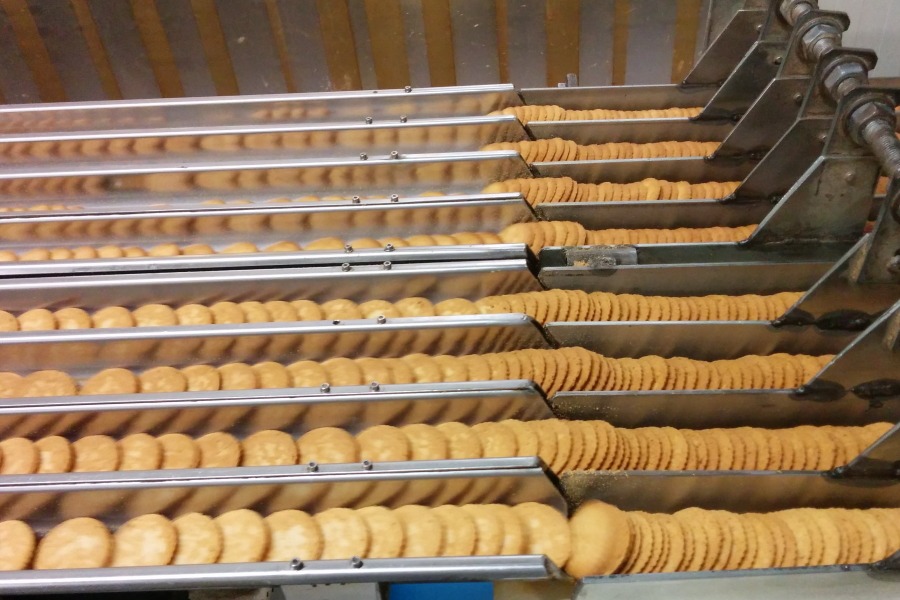 PROCYS offers the complete environment
Lane multiplication / reduction
Putting back into lanes
Grouping / batch preparation
Distribution / transfer / tilting
Benefits
Arrival of the biscuits flat on the full belt
Positioning of the biscuits between guides via a channeling board
Stacking the biscuits to arrange them on edge
2 possible technologies to arrange biscuits on edge
We can help you to define the most appropriate solution for your production line considering the product, its capacity and application.
PROCYS determines the most suitable solution according to the products, the rates, the application etc.

The Rotary stacker
This technology makes it possible to work with independent lanes, the orientation of the biscuit is more vertical.

The Penny stacker
This technique is adapted to faster rates and is usually more flexible when there are format changes.
Build a complete environment with our engineers to optimize your food production line.
Reliable and flexible production system
Modular rates
System adaptable to the type of product
Delicate handling of products, no damage to fragile products
Agile implementation
Automatic connection with your traditional sandwiching machines
Automatic connection with your packaging machines
Accumulation possible with mobile stackers
Consult the pages related to Stacking systems: